Pro-Ject X2 Turntable
The X2 is carefully tuned to offer only audio-focused features for the best possible price, and due to our decades-long experience in analogue technologies, it's hand-assembled by a European-based factory you can trust. Every effort has been made throughout to not cut corners on cost or sonic ability and the end result is a highly engaging, musical turntable that delivers deep, detailed lows, crisp high frequencies and an engaging well-presented midrange.

Dense MDF plinth with gorgeous finish options
Every aspect of the X2 is crafted to a premium standard, to ensure a sublime experience for all senses. The dense MDF plinth gives the X2 a solid feel that reflects its quality construction, while also providing another line of resistance against unwanted vibrations that can spoil your music. The gorgeous Piano Black finish is painted in eight careful layers and hand-polished for a lustrous feel that you'd expect to find on a far more expensive product. The Walnut finish has a more natural feel, bringing an understated elegance to spaces with warmer décor.
Isolated motor
The motor of the X2 has superb vibration expulsion. The motor suspends on a free-floating TPE belt with no points of contact to the chassis body, eliminating unwanted vibrations from the motor through to the turntable.
Push-button speed control
Switch easily between 33⅓ and 45 RPM records with the X2's push-button speed control, and even play 78 RPM records with a suitable cartridge and change of belt (included in the box).
9" carbon fibre and aluminium sandwich construction tonearm
The longer and thicker design of the new 9" carbon/aluminium sandwich construction tonearm is perfect for the vinyl enthusiast looking to elevate in clarity and cartridge. It is suited to heavier cartridges with refined stylus profiles that require very precise alignment. VTA and Azimuth adjustments are also on-board, giving you the perfect upgrade path for future enhancements to your X2's playback.
Heavy acrylic platter
The 30mm, 2kg platter of the X2 makes for a highly stable and consistent playing ground for the 9" tonearm, allowing it to transpose the information in the grooves with minimal feedback or interference. More than just an eye-catching aesthetic feature, the translucent acrylic platter is a perfect companion to vinyl, making sure nothing extra is added to the sound so you can enjoy your records exactly as they were intended. The X2's 2kg acrylic platter helps ensure smooth, accurate speed as well as further resisting unwanted vibrations.
Features
Electronic speed control with 33/45 rpm speed change, which acts as "Speed Box" with ultimate speed stability
Electronically regulated precision motor with improved damping construction for the least amount of vibration and noise
Sub-platter with extremely low 0.001mm bearing tolerances
Stainless steel platter-bearing with soft bronze bushing and teflon mirrors for lowest rumble and noise, and a stable, accurate speed transmission
9" one-piece tonearm tube with best internal damping by the ultra rigid carbon/alu sandwich construction
TPE damped counterweight reduces arm-cartridge resonances by 50%
Azimuth and VTA adjustement
Resonance free, 2 kg heavy acryl platter
Heavy, 50mm thick, highest quality CNC'd MDF chassis
Luxury 8 layers of painting and hand-polished finish or real-wood, satin-waxed veneer
Super shielded, semi-symmetrical, low-capacitance phono cables - purpose designed by Pro-Ject
Hight adjustable, alu machined, vibration absorbing feet
Handmade in Europe
What's in the box
X2 Turntable
Dust cover
Power supply
RCA cable - 1.2m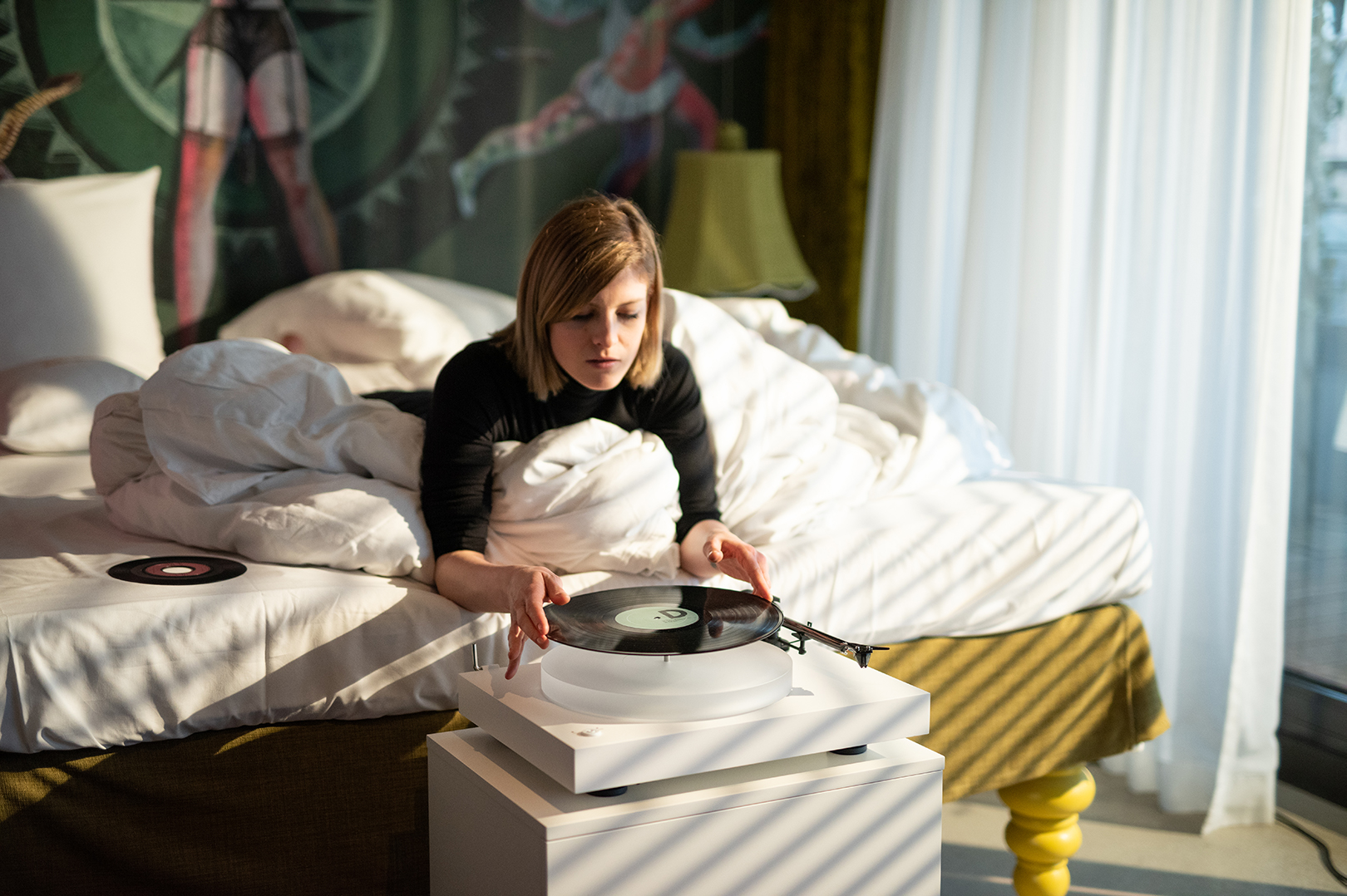 Platter
Tonearm
| | |
| --- | --- |
| Length | 9.00 inches |
| Material | Carbon fibre/aluminium |